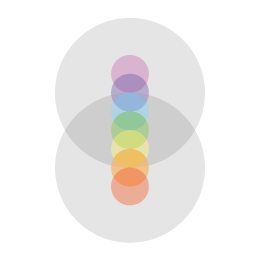 Body Talk
The BodyTalk System seeks to address the "whole person". This means that no aspect of the human psyche can be overlooked, be it emotional, physical or environmental.
BodyTalk understands the profound influence the psychology of the body has on our health. Instead of focusing on the symptom, BodyTalk finds the underlying causes of illness by addressing the whole-person and their whole-story.
This is the beauty of BodyTalk. It respects the body's own needs and determines your body's priorities for healing.
BodyTalk is based on the principle that the body is capable of healing itself at all levels – as evidenced by the healing process that is automatically initiated when a person cuts a finger or twists an ankle. This automatic, self-guided healing process is part of the body's inborn intelligence, or the "innate wisdom" of the body. The innate wisdom guides the overall functioning of the bodymind complex, synchronizes all the activities as well as maintains balance, or homeostasis, within the bodymind complex.
Every single cell, atom, and system is in constant communication with every other cell, atom and system within the bodymind complex at all times. This includes communication through the nervous system, as well as the other subtle energy circuits of the body – such as the meridians and the electromagnetic frequencies that are produced by the body through its functioning. Stress we experience in our daily life can cause these circuits to become compromised, weakening or disrupting the communication between the cells and systems.
BodyTalk helps to re-establish these energetic circuits and efficient communication in a quick and effective way, which then allows the body to very quickly recover and catch up in the healing process.
Body's Wisdom
Just as the body heals a wound with a particular sequence of bio-chemical, physical and energetic responses, the body addresses all healing in a certain order. This concept is vital in the BodyTalk balancing process to encourage the body's ability to heal itself by the fastest means possible.
The BodyTalk Practitioner relies on the guidance of the body's natural wisdom to not only locate the weakened or broken lines of communication and establish how to re-connect them, but also to find the proper order in which they are to be restored. This is accomplished through a form of neuromuscular biofeedback, by which the practitioner is able to ask the body yes-or-no questions and receive answers directly from the body about the priorities for re-establishing these lines of communication.